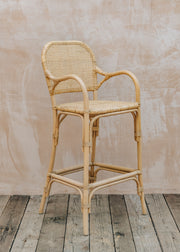 Boulevard Rattan Bar Chair
Stain resistant and long lasting, this charming bar chair is tactile in design and effortlessly elegant. Featuring a versatile design with its intricately woven patterns, such a piece will complement a range of interiors whilst exuding a simple yet rustic charm. Please note, this item is unavailable for viewing in store
H: 105cm (3ft 5in) x L: 55cm (1ft 9in) x D: 57cm (1ft 10in)
The delivery cost for this item is £50. Please allow a minimum of 7-10 working days for delivery of this item. Please see our Delivery & Returns page for more information.
Stain resistant and long lasting, this charming bar chair is tactile in design and effortlessly elegant. Featuring a versatile design with its intricately woven patterns, such a piece will complement a range of interiors whilst exuding a simple yet rustic charm. Please note, this item is unavailable for viewing in store
Insights
Combining functionality with beauty, this chair is manufactured with the belief that good design transcends fashions and never becomes outdated. Following criteria based on sophistication and simplicity, pieces are built to last and embody a fine balance of form and function.
Details & Care:
Material: Natural rattan
To move always lift rather than drag
Clean with a damp cloth to remove dust and marks
Supplied fully assembled
Your product is out of stock - enter your email below and you will recieve a notification when it becomes available again.
This item is age restricted, meaning you must be aged 18 or over to purchase. Age verification will take place during the checkout process using the information you provide. When your order is delivered, you will be asked to sign for the delivery, and proof of ID may be required.
If the initial age verification is unsuccessful, we will contact you asking you to provide further information to prove that you are aged 18 or over. If we cannot verify your age, unfortunately we will be unable to accept your order of this age restricted item and we will be in touch to arrange a refund and to find out how you would like to proceed with the rest of your order.