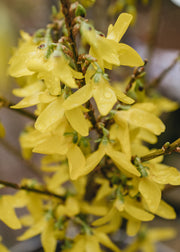 Forsythia Weekend
A compact and variety of this deciduous shrub, Forsythia intermedia Weekend provides an explosion of wonderfully coloured, very early spring flowers. The four-petalled flowers cover the erect stems of the shrub slightly before the leaves unfurl. The colour looks particularly striking alongside the glowing winter stems of Cornus Baton Rouge or Cornus
Anny's Winter Orange
.
Pot size: 4L
Height and Spread: 2.5 (8ft) x 2.5m (8ft) after 5-10 years
A compact and variety of this deciduous shrub, Forsythia intermedia Weekend provides an explosion of wonderfully coloured, very early spring flowers. The four-petalled flowers cover the erect stems of the shrub slightly before the leaves unfurl. The colour looks particularly striking alongside the glowing winter stems of Cornus Baton Rouge or Cornus
Anny's Winter Orange
.
Insights
Like so many plants that tolerate snow and the cold, Forsythia is indigenous to Asia and is part of the olive family. Curiously, its erect stems are uniquely used to play a zither-like stringed instrument in Korea called an ajaeng. The Forsythia family takes its name from the 18th-century royal head gardener and founding member of the RHS, William Forsyth.
Details
Flowers: From March-April a mass of brilliant flowers will smother the shrub's erect stems.
Planting
Moist, well drained soil
Full sun, partial shade
South, West or East facing
Care
This low maintenance shrub needs little attention but in addition to removing dead, diseased or damaged stems, it is a good idea to thin out overcrowded stems down to the base after flowering.
Your product is out of stock - enter your email below and you will recieve a notification when it becomes available again.
This item is age restricted, meaning you must be aged 18 or over to purchase. Age verification will take place during the checkout process using the information you provide. When your order is delivered, you will be asked to sign for the delivery, and proof of ID may be required.
If the initial age verification is unsuccessful, we will contact you asking you to provide further information to prove that you are aged 18 or over. If we cannot verify your age, unfortunately we will be unable to accept your order of this age restricted item and we will be in touch to arrange a refund and to find out how you would like to proceed with the rest of your order.