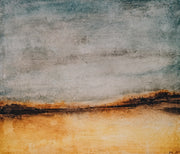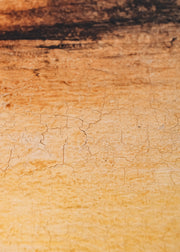 Il Mare à Fiamme
In 'Il Mare à Fiamme' an austere, gloomy sky looms over a golden landscape. 'Il Mare à Fiamme' translates to 'He's swimming in flames', the striking gold foreground suggests a type of hopefulness amidst the struggle, perhaps even hinting at a new beginning…
H: 60cm (1ft 12in) x W: 70cm (2ft 4in)
This item is available for Local Delivery within 30 miles of Burford. If you wish to arrange delivery beyond this radius, please call the Burford Gallery on 07788746835 for further information.
In 'Il Mare à Fiamme' an austere, gloomy sky looms over a golden landscape. 'Il Mare à Fiamme' translates to 'He's swimming in flames', the striking gold foreground suggests a type of hopefulness amidst the struggle, perhaps even hinting at a new beginning…
Insights
Davis's work is as much about the sense of touch as of sight, using texture through chalk-based pigments, tinted French polishes, and waxes to achieve an intriguingly textured surface and remarkable visual depth. His often muted palette establishes a timeless quality to his pieces.
Artist
Having trained as a scenic artist in the early 1990s, Peter has managed art projects on numerous films and West End productions, as well as creating scenes for fashion shoots and art house installations in and around London from his studios in the capital and Berkshire.
Details
Original piece
Materials: Mixed media acrylic and wax on board
Framed: Yes
Burford Garden Company is acting as an agent on behalf of the artists displaying work in this online gallery. Refunds on works are discretionary and goods must be returned within seven days of purchase, at the latest.
Please note this item is available for in store collection and for local delivery. Please contact us on 01993 823117 or email info@burford.co.uk for a quote for mainland UK deliveries.
To see more of this artist's delightful work, please do visit us and enjoy their current collection in the Gallery.
Your product is out of stock - enter your email below and you will recieve a notification when it becomes available again.
This item is age restricted, meaning you must be aged 18 or over to purchase. Age verification will take place during the checkout process using the information you provide. When your order is delivered, you will be asked to sign for the delivery, and proof of ID may be required.
If the initial age verification is unsuccessful, we will contact you asking you to provide further information to prove that you are aged 18 or over. If we cannot verify your age, unfortunately we will be unable to accept your order of this age restricted item and we will be in touch to arrange a refund and to find out how you would like to proceed with the rest of your order.