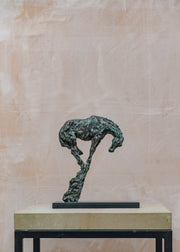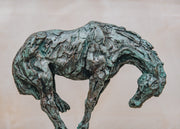 Isolation - Horse on a Pinnacle
Isolation is a notable change in tone from a majority of Shaw's pieces. Recollecting the shared experiences of loneliness that people endured during lockdown, Shaw considered how to convey this desolate emotion, using the figure of a horse. As he stands unsteadily on a precipice, the artist writes, "Ugly can be beautiful. There is a great beauty in sadness."
H: 34cm (1ft 2in) x W: 30cm (12in) x D: 11.5cm (4.5in)
This item is available for Local Delivery within 30 miles of Burford. If you wish to arrange delivery beyond this radius, please call the Burford Gallery on 07788746835 for further information.
Isolation is a notable change in tone from a majority of Shaw's pieces. Recollecting the shared experiences of loneliness that people endured during lockdown, Shaw considered how to convey this desolate emotion, using the figure of a horse. As he stands unsteadily on a precipice, the artist writes, "Ugly can be beautiful. There is a great beauty in sadness."
Insights
Jane asserts, 'I must never tire from looking, observing and learning'. Her powerful style – dynamic and full of movement – mirrors this affirmation. All her pieces, small or large, reveal how she expressively handles the clay (before casting) with her fingers, as if painting with a broad brush.
Artist
Jane Shaw grew up in Gloucestershire and learned to sculpt from an inspirational teacher. A confluence of her love of wildlife and passion for sculpture led to her creating highly emotive sculptures of animals. She exhibits and sells her work nationally and has a permanent display in her studio in Dorset.
Details
Original piece
Material: Bronze verdigris on plinth
Limited edition of 15
Burford Garden Company is acting as an agent on behalf of the artists displaying work in this online gallery. Refunds on works are discretionary and goods must be returned within seven days of purchase, at the latest.
Please note this item is available for in store collection and for local delivery. Please contact us on 01993 823117 or email info@burford.co.uk for a quote for mainland UK deliveries.
To see more of this artist's delightful work, please do visit us and enjoy their current collection in the Gallery.
Your product is out of stock - enter your email below and you will recieve a notification when it becomes available again.
This item is age restricted, meaning you must be aged 18 or over to purchase. Age verification will take place during the checkout process using the information you provide. When your order is delivered, you will be asked to sign for the delivery, and proof of ID may be required.
If the initial age verification is unsuccessful, we will contact you asking you to provide further information to prove that you are aged 18 or over. If we cannot verify your age, unfortunately we will be unable to accept your order of this age restricted item and we will be in touch to arrange a refund and to find out how you would like to proceed with the rest of your order.