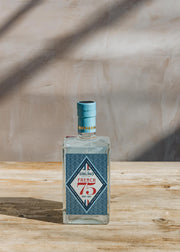 Sibling French 75 Dry Gin, 70cl
Inspired by the classic cocktail, this luxurious gin is crafted with whole slices of fresh lemon, and champagne-blend grape skins from
Dryhill's
Cotswold vineyard. Vibrant aromas of fresh lemon and classic juniper, lead to floral and citrus flavours, and the subtle sweetness of vanilla. Enjoy
with tonic,
over
plenty of ice,
garnished with
a twist of lemon
,
and a sprig of rosemary.
Age restricted item.
70cl
Inspired by the classic cocktail, this luxurious gin is crafted with whole slices of fresh lemon, and champagne-blend grape skins from
Dryhill's
Cotswold vineyard. Vibrant aromas of fresh lemon and classic juniper, lead to floral and citrus flavours, and the subtle sweetness of vanilla. Enjoy
with tonic,
over
plenty of ice,
garnished with
a twist of lemon
,
and a sprig of rosemary.
Insights
Launched in June 2014, Sibling gin is produced in Cheltenham by a team of two brothers and two sisters. Starting out in the industry selling their own sloe gin at a local farmers market, the Sibling team have gone on to produce a celebrated triple distilled gin that was awarded a full three stars at the 2020 Great Taste Awards in just their second year of production.
Details
38% ABV
Shake well before serving
Made in Gloucestershire
Product of the UK
Your product is out of stock - enter your email below and you will recieve a notification when it becomes available again.
This item is age restricted, meaning you must be aged 18 or over to purchase. Age verification will take place during the checkout process using the information you provide. When your order is delivered, you will be asked to sign for the delivery, and proof of ID may be required.
If the initial age verification is unsuccessful, we will contact you asking you to provide further information to prove that you are aged 18 or over. If we cannot verify your age, unfortunately we will be unable to accept your order of this age restricted item and we will be in touch to arrange a refund and to find out how you would like to proceed with the rest of your order.