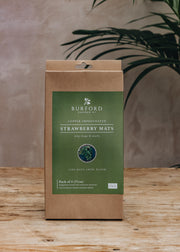 Strawberry Mats
Burford Strawberry Mats come in packets of six and are constructed of a strong, UV resistant material that will last more than one season. The mats are designed to
encircle strawberry plants like a collar, protecting the fruit from dirt and debris. Because they are i
mpregnated with traces of copper they deter slugs and snails.
Dia: 27cm (11in)
Burford Strawberry Mats come in packets of six and are constructed of a strong, UV resistant material that will last more than one season. The mats are designed to
encircle strawberry plants like a collar, protecting the fruit from dirt and debris. Because they are i
mpregnated with traces of copper they deter slugs and snails.
Insights
Copper creates a response in slugs and snails akin to being given an electric shock. It does not kill them but they will retreat to avoid the reaction.
Details & Care
Made in Britain
Material impregnated with copper
UV resistant
Natural and organic
Store in a dry place
Your product is out of stock - enter your email below and you will recieve a notification when it becomes available again.
This item is age restricted, meaning you must be aged 18 or over to purchase. Age verification will take place during the checkout process using the information you provide. When your order is delivered, you will be asked to sign for the delivery, and proof of ID may be required.
If the initial age verification is unsuccessful, we will contact you asking you to provide further information to prove that you are aged 18 or over. If we cannot verify your age, unfortunately we will be unable to accept your order of this age restricted item and we will be in touch to arrange a refund and to find out how you would like to proceed with the rest of your order.