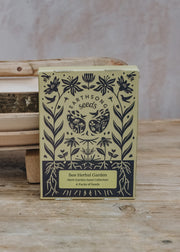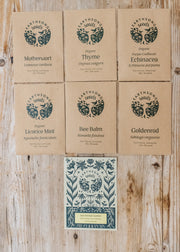 Bee Friendly Herbal Garden Seed Collection
The Bee Herbal Garden
contains
a
selection
of
six
herbs that are equally as valuable for the bees as they are for the herbal apothecary. Grown from seed, these perennial herbs take a little longer to flower in their first year, after which they will bloom continuously for six months every year. Starting with thyme in the
s
pring, ending with goldenrod in the
a
utumn, these flowers provide the bees with an abundant supply of food; in return, the bees
provide
an essential service in pollinating the herbs
.
6 packets of seeds
The Bee Herbal Garden
contains
a
selection
of
six
herbs that are equally as valuable for the bees as they are for the herbal apothecary. Grown from seed, these perennial herbs take a little longer to flower in their first year, after which they will bloom continuously for six months every year. Starting with thyme in the
s
pring, ending with goldenrod in the
a
utumn, these flowers provide the bees with an abundant supply of food; in return, the bees
provide
an essential service in pollinating the herbs
.
Insights
The mission of Earthsong Seeds, based in North Somerset, is to empower people to take greater control of their health and wellbeing by growing their own herbs and making their own herbal preparations. With a passion for seeds, they have created some easy to grow collections with a focus on the benefits of growing herbs and their use in daily life.
Seeds included
Bee balm - Monarda fistulosa (50 seeds)
Echinacea purpurea (50 organic seeds)
Goldenrod - Solidago virgaurea (50 seeds)
Licorice mint - Agastache foeniculum (100 organic seeds)
Motherwort - Leonurus cardiaca (80 seeds)
Common thyme - Thymus vulgaris (200 organic seeds)
Details & Care
Licorice mint makes a delicious herbal tea by just infusing a few leaves in a cup. Thyme is delicious in cooking and is a favourite in herbal honey and syrups. Bee balm tastes like a strong oregano – use sparingly! Echinacea can be used to support the immune system.
Your product is out of stock - enter your email below and you will recieve a notification when it becomes available again.
This item is age restricted, meaning you must be aged 18 or over to purchase. Age verification will take place during the checkout process using the information you provide. When your order is delivered, you will be asked to sign for the delivery, and proof of ID may be required.
If the initial age verification is unsuccessful, we will contact you asking you to provide further information to prove that you are aged 18 or over. If we cannot verify your age, unfortunately we will be unable to accept your order of this age restricted item and we will be in touch to arrange a refund and to find out how you would like to proceed with the rest of your order.