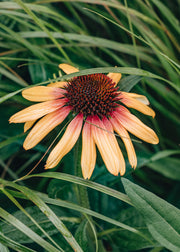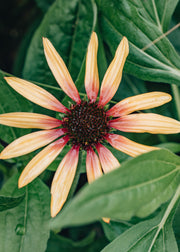 Echinacea Tequila Sunrise
This
clump
forming
echinacea replicates the traditional colourway of a tequila sunrise cocktail – its daisy like petals radiating a bright yellow around an
orange red central cone
,
bringing
the
same
sense of summer
joy and warmth into the garden.
3L
Height and Spread: up to 50cm (1ft 7in) x W: 50cm (1ft 7in) in 2-5 years
This
clump
forming
echinacea replicates the traditional colourway of a tequila sunrise cocktail – its daisy like petals radiating a bright yellow around an
orange red central cone
,
bringing
the
same
sense of summer
joy and warmth into the garden.
Insights
With hairy, sturdy stems, the flowers of Echinacea Tequila Sunrise are prized by florists for their longevity, and beloved by bees and other pollinators for their rich nectar source.
Details
Flowers: July- September
Hardy
Planting
Well drained soil 
South, East or West aspect 
Full sun
Care
Deadhead after flowering to maintain vigour
Your product is out of stock - enter your email below and you will recieve a notification when it becomes available again.
This item is age restricted, meaning you must be aged 18 or over to purchase. Age verification will take place during the checkout process using the information you provide. When your order is delivered, you will be asked to sign for the delivery, and proof of ID may be required.
If the initial age verification is unsuccessful, we will contact you asking you to provide further information to prove that you are aged 18 or over. If we cannot verify your age, unfortunately we will be unable to accept your order of this age restricted item and we will be in touch to arrange a refund and to find out how you would like to proceed with the rest of your order.