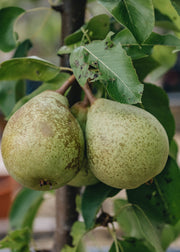 Pyrus communis Beth Bush (Pear) 12L
The
popular
dessert pear Pyrus communis Beth
is a
much loved
variety, prized for its juicy, sweet flavour and early harvest. It is too small
to be grown commercial
ly
but
as
a reliable and
h
eavy cropper
it is
ideal for an Englis
h garden
. 
The fruit has a smooth skin and a sweet juicy taste with a melting texture.
12L
Height and Spread: 400cm – 800cm (13ft - 26ft) x W: 400cm – 800cm (13ft - 26ft) in 5-10 years
This item is only available for local delivery, within 30 miles of Burford Garden Co. Please see our Delivery & Returns page for more information.
At the time of ordering, please enter a contact telephone number at the checkout so that we may contact you regarding the delivery of your order.
The
popular
dessert pear Pyrus communis Beth
is a
much loved
variety, prized for its juicy, sweet flavour and early harvest. It is too small
to be grown commercial
ly
but
as
a reliable and
h
eavy cropper
it is
ideal for an Englis
h garden
. 
The fruit has a smooth skin and a sweet juicy taste with a melting texture.
Insights
With a neat, compact habit and a beautiful display of spring white flowers, this is an ideal specimen for the smaller garden. Beth is a recipient of the RHS AGM (Award of Garden Merit), for all round excellence in the garden.
Details
Flowers: April
Harvest: September 
Hardy
Planting
Well drained soil 
South or West aspect 
Full sun 
Sheltered
Care
Beurré Superfin x Williams' Bon Chrétien parentage
Is not self-fertile so will need another cultivar for pollination – Conference would be good or Doyenne du Comice
Flowers early and so at risk from spring frosts
Will drop a certain number of developing fruits in mid summer–then thin out the remaining pears, leaving one pear per cluster
Harvest when pears are slightly under ripe
Your product is out of stock - enter your email below and you will recieve a notification when it becomes available again.
This item is age restricted, meaning you must be aged 18 or over to purchase. Age verification will take place during the checkout process using the information you provide. When your order is delivered, you will be asked to sign for the delivery, and proof of ID may be required.
If the initial age verification is unsuccessful, we will contact you asking you to provide further information to prove that you are aged 18 or over. If we cannot verify your age, unfortunately we will be unable to accept your order of this age restricted item and we will be in touch to arrange a refund and to find out how you would like to proceed with the rest of your order.