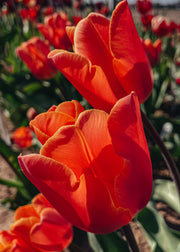 Tulipa Jimmy Bulbs
Bearing fiery orange petals flamed with red
that contrast beautifully with its grey green foliage, Tulip Jimmy
provides
great
impact
in the garden
,
or
,
alternatively, plant
in a
container on the terrace
for an eye-catching display.
Add additional options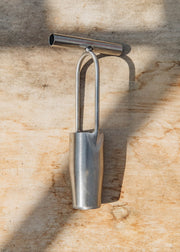 Pack size: 10 bulbs / 50 bulbs
Height and Spread: up to 45cm (1ft 5in) x W: 10cm (4in) in 1-2 years
Bearing fiery orange petals flamed with red
that contrast beautifully with its grey green foliage, Tulip Jimmy
provides
great
impact
in the garden
,
or
,
alternatively, plant
in a
container on the terrace
for an eye-catching display.
Insights
Triumph tulips are a cross between Darwin and Early tulips and are the largest and most important class of tulips, prized for their traditional tulip shaped flowers and their sturdy stems. They are also considered to be the best type of tulip for forcing.
Details
Flowers: April - May
Planting
Well drained soil 
South or West aspect 
Full sun 
Sheltered
Planting Time and Depth: Autumn (October onwards), 15cm- 20cm (6in-8in) deep and 15cm (6in) apart 
Care
Bulbs are toxic to pets or humans if ingested and may cause skin allergy
Deadhead as flowers fade
Your product is out of stock - enter your email below and you will recieve a notification when it becomes available again.
This item is age restricted, meaning you must be aged 18 or over to purchase. Age verification will take place during the checkout process using the information you provide. When your order is delivered, you will be asked to sign for the delivery, and proof of ID may be required.
If the initial age verification is unsuccessful, we will contact you asking you to provide further information to prove that you are aged 18 or over. If we cannot verify your age, unfortunately we will be unable to accept your order of this age restricted item and we will be in touch to arrange a refund and to find out how you would like to proceed with the rest of your order.