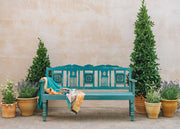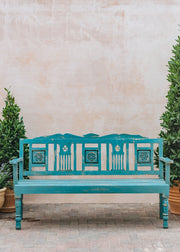 Three Seater Blue Fiddle Indian Bench
Beautifully decorated, these mango wood benches are truly eye-catching. Wide enough for two, their hand-carved floral motifs and intricate fretwork make them distinctive feature pieces, well suited for a conservatory or the garden during the summer months. Please note, this item is unavailable for viewing in store
H:97cm (3ft 2in) W:165cm (5ft 5in) D:55cm (1ft 10in) seat H:45cm (1ft 6in)
The delivery cost for this item is £50. Please allow a minimum of 7-10 working days for delivery of this item. Please see our Delivery & Returns page for more information.
Beautifully decorated, these mango wood benches are truly eye-catching. Wide enough for two, their hand-carved floral motifs and intricate fretwork make them distinctive feature pieces, well suited for a conservatory or the garden during the summer months. Please note, this item is unavailable for viewing in store
Insights
Each bench is made from densely grained Indian mango-wood; a semi-hardwood that is highly durable and sustainable. The hand-painted surface has a distressed finish, which will gracefully age over-time producing an antique patina.
Details & Care
Seats three
Made in India
Materials: Indian mango wood
Twice a year, wash with warm, soapy water and a gentle brush, avoid abrasives
If left outside over winter, the surface may suffer a little with black mould, but this is superficial and can be wiped down with a sponge and cloth. For best results, store under-cover during damp and winter months.
Your product is out of stock - enter your email below and you will recieve a notification when it becomes available again.
This item is age restricted, meaning you must be aged 18 or over to purchase. Age verification will take place during the checkout process using the information you provide. When your order is delivered, you will be asked to sign for the delivery, and proof of ID may be required.
If the initial age verification is unsuccessful, we will contact you asking you to provide further information to prove that you are aged 18 or over. If we cannot verify your age, unfortunately we will be unable to accept your order of this age restricted item and we will be in touch to arrange a refund and to find out how you would like to proceed with the rest of your order.