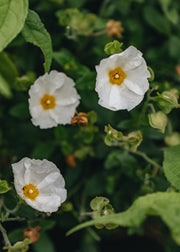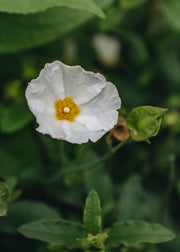 Cistus Thrive
Cistus x obtusifolius Thrive, also known as the Rock or Sun Rose, is a compact, evergreen shrub that thrives in dry, poor soil. It bears small, five-petalled flowers with yellow centres, rather like those of the wild rose. Although each flower only lasts for a day, the plant blooms over a long period
Pot size: 7.5L
Height and Spread: 60cm (2ft) x 50cm (1ft 7in)
This item is only available for local delivery, within 30 miles of Burford Garden Co. Please see our Delivery & Returns page for more information.
At the time of ordering, please enter a contact telephone number at the checkout so that we may contact you regarding the delivery of your order.
Cistus x obtusifolius Thrive, also known as the Rock or Sun Rose, is a compact, evergreen shrub that thrives in dry, poor soil. It bears small, five-petalled flowers with yellow centres, rather like those of the wild rose. Although each flower only lasts for a day, the plant blooms over a long period
Insights
Tolerant of drought and coastal conditions, it will thrive where many other plants falter. This Rock Rose is an excellent shrub for a Mediterranean style planting scheme.
Details
Flowers: June - July
Hardy
Planting
Any soil
South or West aspect
Full sun
Sheltered
Care
To encourage bushy growth, pinch back young shoots after flowering
Your product is out of stock - enter your email below and you will recieve a notification when it becomes available again.
This item is age restricted, meaning you must be aged 18 or over to purchase. Age verification will take place during the checkout process using the information you provide. When your order is delivered, you will be asked to sign for the delivery, and proof of ID may be required.
If the initial age verification is unsuccessful, we will contact you asking you to provide further information to prove that you are aged 18 or over. If we cannot verify your age, unfortunately we will be unable to accept your order of this age restricted item and we will be in touch to arrange a refund and to find out how you would like to proceed with the rest of your order.