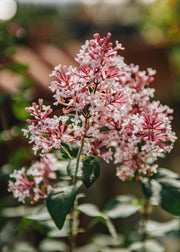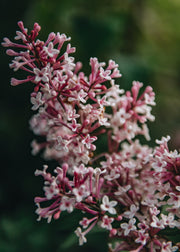 Syringa microphylla Superba
This deciduous shrub, Syringa microphylla superba, makes a charming and low maintenance addition to a cottage or informal garden. The compact bush, with its heart-shaped foliage, produces multiple pink blooms held in loose panicles, which are pretty and highly scented. This lilac is a
recipient of the RHS AGM (Award of Garden Merit), for all round excellence.
Pot size: 10L
Height and Spread: 1.5-2.5m (4ft 9in - 8ft) x 1.5-2.5m (4ft 9in - 8ft) after 10-20 years
This item is only available for local delivery, within 30 miles of Burford Garden Co. Please see our Delivery & Returns page for more information.
At the time of ordering, please enter a contact telephone number at the checkout so that we may contact you regarding the delivery of your order.
This deciduous shrub, Syringa microphylla superba, makes a charming and low maintenance addition to a cottage or informal garden. The compact bush, with its heart-shaped foliage, produces multiple pink blooms held in loose panicles, which are pretty and highly scented. This lilac is a
recipient of the RHS AGM (Award of Garden Merit), for all round excellence.
Insights
Lilacs hail from Asia and Southeast Europe. They were extremely fashionable in the late 19th century and featured in many Edwardian gardens.
Details
Flowers: From May - June the shrub is covered in a mass of long-tubed, lobed flowers, which will be followed, (if deadheaded), irregularly, by more flowers until October
Planting
Moist, well drained soil
Any aspect
Full sun
Hardy
Care
Apply mulch to the shrub in early spring. Carefully remove any spent flowers to encourage more flowering.
Scent
Highly scented flowers
Your product is out of stock - enter your email below and you will recieve a notification when it becomes available again.
This item is age restricted, meaning you must be aged 18 or over to purchase. Age verification will take place during the checkout process using the information you provide. When your order is delivered, you will be asked to sign for the delivery, and proof of ID may be required.
If the initial age verification is unsuccessful, we will contact you asking you to provide further information to prove that you are aged 18 or over. If we cannot verify your age, unfortunately we will be unable to accept your order of this age restricted item and we will be in touch to arrange a refund and to find out how you would like to proceed with the rest of your order.